For army veteran Warren McKinlay, 34 from Braintree, in Essex, passion for sport has proved the ultimate driving force for recovery after a motorcycle accident left him with a severe brain injury in 2005.
A decade on from his ordeal, Warren is now a member of Team BRIT, a motorsports group made up of injured servicemen, and shares his experience below to encourage people of all ages and abilities to get active after brain injury...
'Anger became a serious life obstacle'
"Even when I joined the army, aged 19, my real love was always cars, motorbikes and racing," said Warren. "It was the reason I became a Recovery Mechanic in the REME Royal Electrical Mechanical Engineers).
"On 23 May 2005, I was travelling home on my motorbike from the RAF Honnington in Suffolk, when I was forced to take avoiding action, when my riding companion lost control of his own bike. I swerved to avoid hitting my colleague and came off the road. I was thrown from my bike, which then smashed into a nearby tree (the bike crushed me between it and the tree), leaving me with a broken back, pelvis and a devastating brain injury.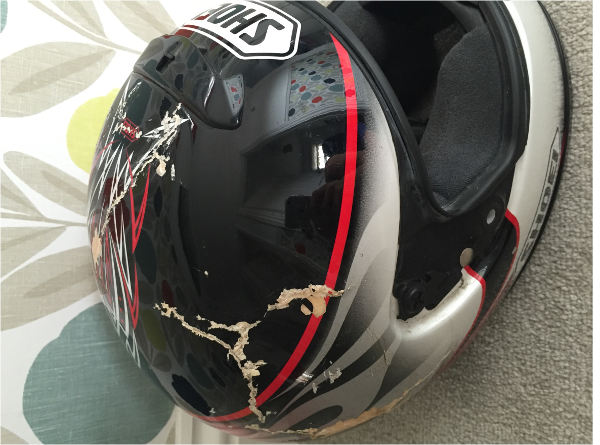 "My helmet thankfully took the biggest impact, though its front crumpled as my head collided with the tree-trunk and became firmly wedged between the bike and tree."
Warren was medically discharged from the army and, after finally being diagnosed with a brain injury from Hedley Court Rehabilitation Centre, in Surrey, he began an uphill battle to recovery.
"Anger, lack of motivation and then a growing dependency on alcohol became serious life obstacles," said Warren. "My mood swings after brain injury also became a big problem, both for me and my wife Sarah, particularly as she was three months pregnant with our first child at the time of the accident.
"For a while I let the hidden effects of brain injury overwhelm and control me. No matter what I tried, my brain just wouldn't play ball."
In early 2016, Warren discovered KartForce, a charity that introduces injured troops to train for endurance racing. Which include taking part in 24hrs kart races.
Power of sport
"Motorsports is a passion that Sarah and I have always shared," said Warren. "Before my brain injury, we would always go and watch the racing as a family, and it is great to see Sarah turn out and watch me race now I'm back in the car.
"Even when I joined the army to become a Recovery Mechanic, my dream was always really to get into racing. When I sustained my TBI, I thought I'd never get an opportunity to race.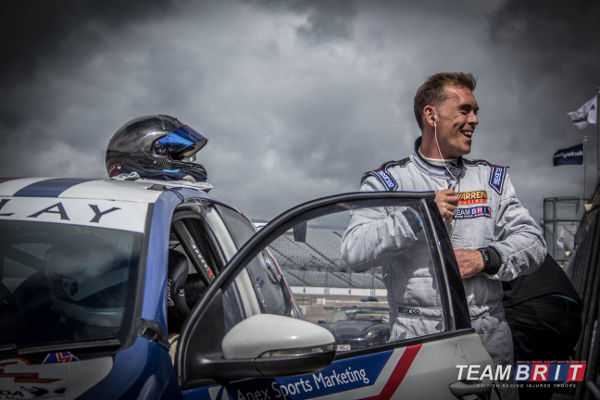 "In April 2016, I was invited to step up to an endurance car racing team and was given the opportunity to join Team BRIT, which is made up of military veterans living with a range of disabilities.
"My love of motorsports was re-awakened and I have now re-discovered my competitive drive and determination, which is something I thought I'd lost forever after brain injury.
"It is hard to explain what motorsports has done for me. It has literally given me my life and spark back. I use racing as a goal-orientated rehabilitation tool and it boosts my motivation to succeed and keep getting better.
"In the early days of recovery, I struggled to concentrate for long periods of time. Racing gives my mind a focus.
"Imagine you are in a crowded room and everyone is talking at the top of their voices. The moment I put on my racing helmet the shouting stops. As soon as I climb into the seat and that visor goes down – everything is quiet and calm. My idea of heaven!"
'My wife is a special kind of person'
"I would not be here talking today if it was not for my wife," said Warren. "It takes a special kind of person to live with someone who has sustained a serious traumatic brain injury, and Sarah has been incredible. Like anyone in her position, she has had moments of feeling the strain, but she has always stood by me and helped me rediscover my passion for racing.
"Attending social meetings at Headway Essex has also been a key step in my recovery," said Warren. "The charity helped to get me out of the house and allowed me to be around others who understood what I was going through. One thing I never lost was my competitive streak when bowling!
"My issue was that I'd go along for so long and then feel so much better that I thought I no longer needed support. I'd stop going and spiral downhill again."
Passion for sport can save a life
"Even today, I struggle with various hidden effects of my brain injury," said Warren.
"For instance, my memory is so poor now that I have to write everything down and repeatedly read back my notes to remember key things.
"Two guys on Team BRIT have missing legs and limbs. People see their injuries and gravitate towards them, knowing immediately what we are about. It's different with brain injury. When you have to explain to people what your injury is it can be very difficult.
"Just because you can't see someone's struggle, that doesn't mean it doesn't exist.
"I want people living with a hidden disability to know that sport is not just for top athletes and can be an emotional outlet and key driving force in your life and recovery. You don't have to be winning gold medals at the Olympics to feel a real benefit from these kinds of activities.
"Motorsports saved my life after brain injury. Whether you gain pleasure from going for a swim, bike ride, or session at the climbing wall – there are so many sports out there for all ages and abilities that accommodate disabilities and could be your new passion after brain injury. My motto is that life is a path well-trodden – so go out and explore!"